Greenwood Road Books
Your leading source for interesting books
Libri ad legendum non metus
---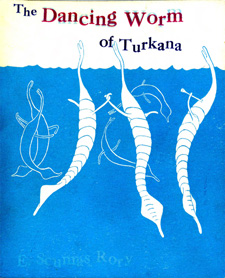 E. Scumas Rory.
Dancing worm of Turkana.
Gurnee, Ill.: Vanishing Press, 1969.

Did Bryan Patterson (1909–1979) discover a living fossil in Africa? Was it possible that Tullimonstrum survived for millennia? Although E. Scumas Rory's riveting Dancing worm of Turkana has been out–of–print for decades, the proprietor of Greenwood Road Books can recite this story from memory. Some remember the Iliad, Odyssey, baseball statistics, or Bhagavad gita, Ed remembers the Dancing worm of Turkana. Go figure. He actually worked on the Vanishing Press, printing a few pages of this most famous volume. Edward is organizing a bibliography of Vanishing Press imprints. If you have any of these precious volumes printed by the Vanishing Press, contact him at your convenience.
E. Scumas Rory.
GLB and the bubble reputation.
Gurnee, Ill.: Vanishing Press, 1966.

"In a distant valley, far upstream, in the pantry cupboard of his friend, Furcifer Macminihan, a bubble miner, lived Glb, a thirty-four pound mouse." So starts the entertaining tale of Glb, bubble [bubbles may be large concretions, but they are never quite defined] scout for Furcifer, across page after page of woodcut illustrations, "borrowed from the Field Museum." This particular copy is inscribed on the inside front cover by the author: "To Russell MacFall with the compliments of the Vanishing Press and the autograph of E. Scumas Rory Chicago 20 Jan 67". It also includes a letter, dated 20 January [19]67, to Russell MacFall at the Neighborhood News Desk of the Chicago Tribune. The letter is on stationery printed by the Vanishing Press, reading in red across the header, "Mazon Creek Faunal Study." The text of the letter reads: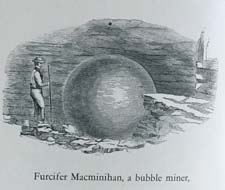 "Dear Mr. MacFall: The other evening at the Caxton Club meeting I talked with several people, and may have gotten the conversations wrongly attributed in retrospect — embarrassing but harmless. At any rate, I believe that you were the one who mentioned that you were putting together a bibliography of novels dealing with mining. It was only later that I remembered that I had written and published a novel dealing with mining itself, and I should make you aware of it. Therefore, I am sending to you, under separate cover [in right margin, written in Richardson's hand in blue ink, herewith], a copy of Glb and the Bubble Reputation, with the Author's compliments. This is not to suggest that you must include it in the bibliography, for the press run was only 66 copies and distribution correspondingly slim. If the conversation that I recall was not with you, please keep the book anyway in token of my pleasure in making your acquaintance. Sincerely, [signed in blue ink] Eugene S. Richardson, Jr."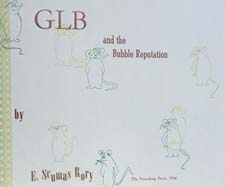 Eugene S. Richardson, Jr. (1916–1983) was an active member, and eventual president, of the Caxton Club, a society of bibliophiles in Chicago. Russell MacFall (1903–1983) was Neighborhood News Editor at the Chicago Tribune until his retirement in 1968. Like Dr. Richardson, he had a wide variety of interests. MacFall was an intense mineral collector, amassing a collection of several thousand specimens. Macfallite, a rare calcium manganese silicate from the Upper Peninsula of Michigan, is named after Russell. MacFall, in his retirement, wrote a number of books on fossils and minerals as well as studies on L. Frank Baum (1856–1919). It is not surprising that Russell MacFall and Eugene Richardson memorably encountered each other at the Caxton Club.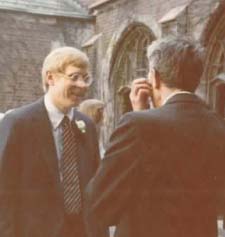 The letter is most telling thanks to its typography. In Dr. Richardson's office at the Museum, there was a fantastic manual typewriter next to his desk. Dr. Richardson could easily change fonts on the typewriter, even to very exotic non-Roman characters. This letter to Russell exhibits the use of three fonts, one for most of the body of the document, with two other styles used in the salutation for the word Tribune and the title of the book Glb and the Bubble Reputation. I've often wondered about the fate of that typewriter. This letter is a grateful tug at memories of that office, filled with the scent of Amphora tobacco from a well-used pipe — encounters with the most remarkable and influential person in my life.