Greenwood Road Books
Your leading source for interesting books
Libri ad legendum non metus
---
Are you a true bibliophile? Really, a bibliomaniac?
Special, just for bibliomaniacs like you. Yes, YOU. Tell us about your most crazed bibliophilic moment. We dare you. If you can convince us that you really are cuckoo for books, you will receive a US$1,000 gift certificate to Greenroad Books. This certificate will last as long as you exist on this planet; no expiration until you personally expire.
Is your home so filled with books that you only have little paths to the kitchen, bathroom, and bedroom? Do you consider books as an excellent form of sound–proofing from noisy neighbors and their dull parties and boring televisions? Have you been abandoned because you never have time for anyone except a good book? The last good character you met was in a book? Do you frequent libraries, bookstores, and book bins daily? Hourly? Do you dream about books? Have a picture of your favorite author in your wallet or purse? Do you brake for books?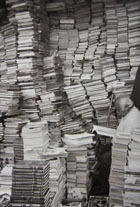 Erasmus (1466?–1536) in a letter to Jacob Batt, dated 12 April 1500, wrote, "Ad Graecas literas totum animum applicui; statimque, ut pecuniam acceptero, Graecos primum autores, deinde vestes emam." In translation, "I have turned my entire attention to Greek. The first thing I shall do, as soon as the money arrives, is to buy some Greek authors; after that, I shall buy clothes." These remarks have been simplified to: "When I have a little money, I buy books; and if I have any left, I buy food and clothes." Do you completely agree?
Send your best example of your book addiction, in less than 500 words, as a simple text file, attached to an e–mail message, addressed to books [at] greenwoodroadbooks [dot] com; in the subject line, write "I (heart) books." Send your story at your convenience. Deadline, when modern carbon dioxide levels reach Eocene maximum of 1,400 ppm — Early Eocene Climate Optimum (ECCO) CO2 calculated by Elani Anagnostou, et al., "Changing atmospheric CO2 concentration was the primary driver of early Cenozoic climate," Nature, volume 533, number 7602 (19 May 2016), pp. 380–384. Anonymous judges will analyze and discuss all entries. A winner will be announced when carbon dioxide levels in the atmosphere drop to pre-industrial age levels (280 ppm). The winning entry will be published on this Web site.
© 2011–2016 Greenwood Road Books. All rights reserved. | Questions? Send e–mail to books [at] greenwoodroadbooks [dot] com